Serve Inside or Outside?
At a recent Hog Roast in Stockport, our customer was deliberating this very question. It was his daughters 21st Birthday party which the family were hosting at their home. It was early February after all, and the prospect of a miserably cold and wet night was a distinct possibility. As it happened, the night was one of those clear, frosty, crisp nights that suit an outside serve so well … the smell of the roasting pig, and steaming dishes full of hot buttered potatoes, seems to be even more delicious in the clean,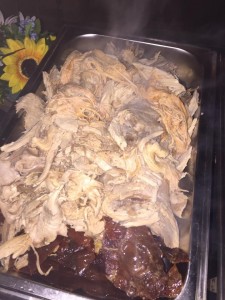 cold night air!
Nevertheless, we had our plans in place for a hog roast Stockport inside serve if that had been necessary … heavy rain can dampen spirits, even if we bring extra gazebos to shelter hungry revelers. So, we always have an indoor serve plan worked out and agreed … whether that involves bringing the Hog inside (as we did recently at Nelson Cricket Club), or positioning the Hog outside where it can still be viewed, but carving off joints to be served indoors is space is tight. So a Hog Roast is not just a summer thing, there's a Hog for all seasons!