Last Saturday proved to be an intellectually stimulating example of hogroasting. We were contacted to provide catering for a 60th birthday party, for a gentleman by the name of Bill (I'm omitting his surname here deliberately, in the event that he'd think I'm mildly poking fun at some of our conversations, which I'm genuinely not, and I hope that shows in this blog entry).
We make no bones about the fact that when we provide hog roasts Rochdale for people, we're not averse to chatting with clients and guests, particularly whilst serving up the meat, but also during the setting up/slow roasting. We're more than capable of completing our tasks such as preparing the salad whilst the hog is roasting, and that's not a fast process, it usually taking at least 6 or so hours to roast a whole hog, so that does leave time to chat with clients.
Bill didn't arrange his party, his daughter did that, after consulting with him regarding what kind of food he'd like, without regard to his wife's insistence that though on most days he was on a diet, as it was his 60th, he'd not attract any flak for indulging himself in some succulent juicy slices of our freshly roasted pork.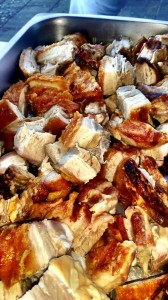 After setting up our hog roasting machine and getting the hog up and turning, we started to prepare the side salads and other sundries, as we usually do. Whilst we were doing this, Bill came over for a chat. Turns out that in his line of work as an academic, he's spent quite a while pondering the ways in which human biochemistry has been affected by the ways in which the available food from the immediate environment is consumed. I think that's an intellectual way of describing the cooking of locally sourced food. Which is something we at Hog Roast Rochdale know a bit about, as it's our job.
Bill expounded at length on how a hogroast is a form of food that goes back into the dawn of human history, and probably beyond that into prehistory. It makes a lot of sense when you think about it. Even back to the days when wild boars would have been a staple part of the diet of early dwellers in these isles, and spitting them on sticks over an open fire would have been the method of preparation.
We had a very engaging discussion about whether back in those days there would also have been side salads and freshly baked rolls, and I feel I learned a lot, turns out that a lot of the vegetables we grow today weren't imported until a lot later in history, many of them by the Romans.
One thing Bill definitely agreed was that back then, a Roman chef would have been tickled pink to have had access to one of our purpose designed, purpose built hogroasting machines. I can't pick fault with him either, as much experience of delivering tasty hog rolls up to clients and their guests has shown me that though there may be something to say for traditional methods, modern science and engineering is solid progress. Because our machines really do help us to do the job consistently and perfectly, every time. Made me glad to not have to go out and stand in front of an angry wild boar with a spear too.