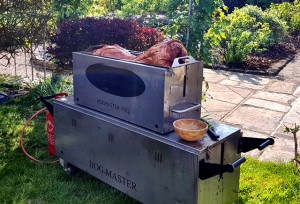 As a team of professionals who are dedicated to using fresh, quality ingredients to make great food, Hog Roast Clitheroe will work hard to ensure that your party or event is a resounding success. We've been established for many years now, covering all kinds of social occasions, including birthday parties, corporate functions and weddings, and so much more. Whatever kind of party you have in mind, we're sure you'll be impressed with our excellent service and attention to detail and more than satisfied with our food.
Hog Roast Clitheroe was recently asked to cater a party at Shireburn Barn Farm in Hurst Green, so local to us. We often cater events further away but it's always nice to work close to home. There would be 90 guests, and we were asked to cook both a hog roast and a spring lamb, as well as some additional sausages and salad dishes. We actually offer a great variety of choice of food, which often surprises our customers, as many people expect us to only cook hog and spit roasts. We're highly experienced in roasting all kinds of animals and birds but we also know that people like variety, so we have several menus for you to check out and we also encourage our customers to mix and match items or even to design your own menu. We do cater some events without a hog or spit roast, but oftentimes customers want extra options in addition to one. Plus we also have various options for those guests on special diets, such as vegan, vegetarian and gluten-free; just ask us about these when you're booking your party.
With a 5pm service, Hog Roast Clitheroe had to get cracking at the farm late morning, in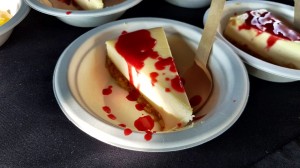 order to start roasting the hog and spit-roasting the lamb. It takes several hours to cook these kinds of meat to perfection, so once we arrived at the venue and set up our equipment, it was time to start preparing the meat. Hours later and the surrounding area was filled with amazing meaty aromas and the pig and lamb were sights for sore eyes.
Once everyone had their fill of pork, lamb, sausages and salad, we then served a trio of gorgeous desserts – fresh fruit salad, cheesecake and sticky toffee pudding. Everyone's hunger was certainly satisfied on this day.