Hog Roast Blackshaw Head is often asked to cater wedding receptions but we're also often asked to cater other private parties like birthdays, anniversaries, engagements, retirements and christenings, as well as corporate functions too. Whatever you are organising, our friendly, experienced professionals can provide mouthwatering food at a great price and not just the amazing hog roasts that we've perfected over many years.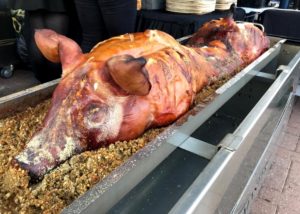 While a traditional Hog Roast Blackshaw Head hog roast centrepiece will wow your guests and have them licking their lips in anticipation, we also understand the need for alternatives to be served, whether to satisfy individual tastes, appetites or special diets. Have a look through our extensive menus and you'll find a great array of options, including many different mains, starters and desserts, as well as handmade canapés. From spit-roasts to one of our speciality menus like our Southern Slow Roast (three meaty mains and four sides) or our Loaded Fries (freshly-cooked fries smothered in meat, slaw and cheese) and dishes like veggie skewers and vegan mac and cheese, whatever your wants and needs, we'll do you proud and your guests will remember your party or event for a long time to come.
For a birthday party that our Hog Roast Blackshaw Head experts catered over the weekend, we were asked to cook a hog roast in order to make our famous pigs in buns (which you may already know as hog roast rolls) but we were also asked for a gluten-free alternative main. When we told our customer that we can easily make our pigs in buns gluten-free simply be bringing along gluten-free bread rolls and wraps for that guest, they were stunned, but as all the other ingredients are already suitable, it would be super simple for us to cater this party and make sure that everyone invited could enjoy the same food.
On the day of the party, once the hog had sizzled away slowly for hours on end until it produced tender meat and crispy crackling, our chef and assistants served a great feast, with piles of sumptuous pigs in buns satisfying each and every one of the guests.