Winter weddings are truly spectacular affairs, and Hog Roast Ramsbottom's latest Clients were happy couple Fran and Kay. These two lovely people were having a beautiful December wedding and knew straight away that they wanted the team to cater their wedding reception.
The party was taking place straight after the wedding ceremony and photographs, at the same venue. The Clients worked with the Hog Roast Ramsbottom team to come up with a delicious menu of tasty dishes for them and their 30 guests to enjoy.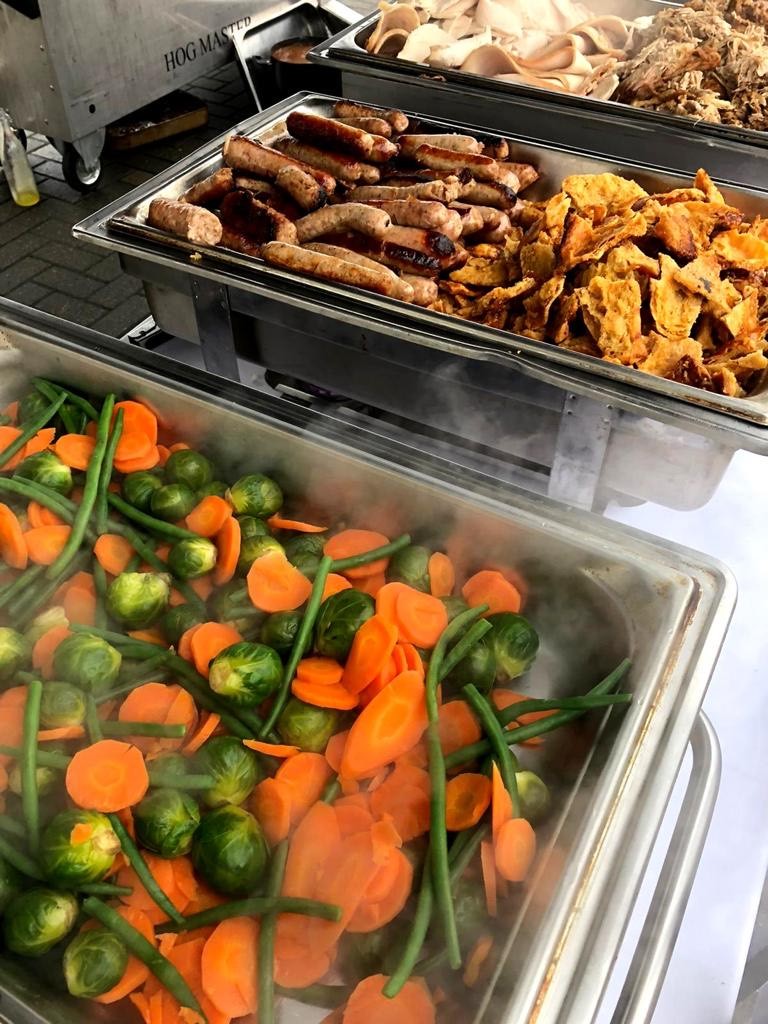 Chef Jordan and his partner Sophie were on hand the whole day to make the buffet. The happy team arrived at the pretty Private Hall venue several hours before the 5pm serving time, which gave them plenty of time to set up the cooking equipment and get to work on creating the thoroughly luxurious buffet for the guests to enjoy.
Clients Fran and Kay were delighted with everything that the hardworking Chef and assistant put together. When they and their guests tucked into the buffet it was a massive treat!
The buffet that Chef Jordan had brought to life was full of tasty dishes such as the main attraction, which was Spit Roasted Sirloin of Roast Beef served with Horse Radish Sauce, Yorkshire Puddings and Homemade Red Wine Gravy. Alternatively, if the guests preferred there was a delicious vegetarian whole Roast Salmon on offer. Alongside these tasty treats there were platters of delicious seasonal veg and 3 types of scrumptious fresh salad. There was also large platters of jacket potatoes and roasted new potatoes in rosemary in garlic. Finishing off the buffet was a basket of assorted rolls and wraps.
The buffet went down very well! Guests are and made merry to their hearts content, and Clients Fran and Kay were over the moon!
Chef Jordan quietly tidied away with help from his assistant Sophie, all the rubbish was taken away from the venue by the team and disposed of in a safe manner. The buffet was a hit! And the wedding reception was a great party, which left newlyweds Fran and Kay absolutely delighted.