We love to make parties extra special, giving your guests an experience that they will always remember, by providing an amazing centrepiece hog or spit roast. The great spectacle of a hog or spit roast being cooked and carved in front of your eyes is unforgettable, as are the wonderful aromas that fill the air around you. If you add to the mix the fact that our ingredients are always fresh and excellent quality and that we provide top-class service in every way, you're onto a clear winner if you hire us for your celebration or event feast.
Nan and Paulie called us to book a back garden hog roast in Formby for their wedding anniversary recently and their guests haven't stopped talking about it since. The theatre of it, the smells and the delectable tastes have all stayed in their minds and so Paulie contacted us afterwards to thank us for our wonderful catering. It makes us really happy to know that our customers are more than satisfied with our service and food and we always welcome any kind of feedback that you have.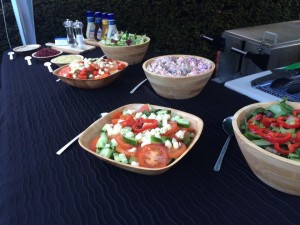 This happy couple asked for a simple menu of hog roast rolls (we call them 'pigs in buns') and salads for their summer anniversary party, for a group of around 20 guests. You may not know that we can cater any size party or event, as hog roasts and spit roasts are often associated with huge celebrations, but as you can see from us catering this intimate affair, we can manage any amount of people, large or small.
As it was a small party, I catered this feast by myself. I arrived in the early afternoon, ready to roast the pig I'd brought along for a few short hours. It is fairly easy to prepare a pig for cooking it this way, as I showed Paulie, and he has since thought about hiring a machine from us so he can cook one himself. Once it's cooking, you just need to keep an eye on it. Then before the guests arrived I sliced the bread rolls and dished out our delicious apple sauce and stuffing, ready to welcome the lovely guests and to feed them to their hearts' content.