We got caught in a huge storm on Sunday the heavens opened and we were all so thankful we were catering indoors as we headed north to cater for a birthday party with a hog roast Lancaster. The event was being held in a church hall and the rain poured down as we arrived and we quickly unloaded the van and headed inside. When we dried off our faces, as we were drenched we began to do what we do best; cook!
100 guests were due to arrive and with no time to waste, we placed rows of potatoes and sausages on the smaller machine and some lamb on the larger with some chickens. The meats cook beautifully and take no effort simply a case of placing them on the machine and they do the hard work for you. We mixed and prepared an assortment of fillings for the potatoes, the potatoes take a fraction of the time to cook on the machine and are so tasty. We mixed some coleslaw and placed it in a large bowl along with some salads and dips all looking good as we were greeted by the birthday boy him self and the guests, we removed the meats from the machines and carved them with ease the meat just fell off the bone and full of natural juices and goodness never ever does the meat dry out our machines retain the goodness giving amazing texture and flavour. The potatoes were placed on a large server and we filled them with an assortment of filings for the guests to enjoy and everyone helped them selves to salads and dips.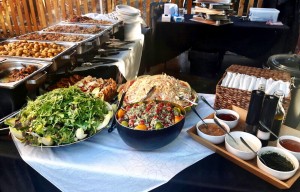 The guy couldn't thank us enough he said he stumbled upon us by accident on line and hadn't ever ate hog roasted food before but he said he was converted and would most definetly be getting us again. We were very happy to hear this and the guests all agreed saying the food was so tasty and all shocked at the meats. We had a lovely afternoon as we always do at every event we cater for we do love our job it must be said. Another amazing Hog Roast Lancaster!