Ah, bonfire night – it has to be on record one of the best nights for a hog roast Lytham. A frosty evening, wrapped up in hats and gloves and sinking your teeth into a delicious feast whilst basking in the warmth of the bonfire, I can hardly think of anything better! Surprisingly, this was our first year catering for a large bonfire event and we could not have been more pleased when we got the call! A beautiful pub out in the Lytham countryside invited us to cater for their annual bonfire night celebration. The pub's owner David explained to us the vast amount of preparation and organisation required for a successful and safe bonfire night and that in previous years they had tried to cater the event themselves but decided that it was too much responsibility and so made the decision to hire outside caterers who had the same values they believed in – simple, comforting and home cooked food. Who better than to call than ourselves at hog roast Lytham?
We met with David a couple of weeks before bonfire night to look around the venue and discuss all things catering and how many tickets he was expecting to sell for the event. He had a capacity of 400 people and so we decided based on the success of ticket sell outs in previous years that we would use this as a basis for catering supplies. We decided we would serve our classic slow roasted hog filled bread rolls, as well as spit roasted hog dogs with caramelized onions – truly delicious winter food!
With such a large number of people to serve we arrived early afternoon to set up our equipment in the terrace area of the pubs beautiful outdoor space. The place was busy with a whole range of people setting up various things such as preparing the bonfire itself, checking that fireworks were properly positioned and decorating the outdoor space. We heated up our equipment and got straight to work slowly cooking our extra large pig which can serve well over 300 people.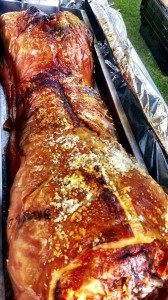 Before long, it was going dark and excited guests were arriving to the smell of both slow cooked pork meat and the comforting scent of a smokey bonfire. Once the both the pork and the hot dogs were ready, people were able to come and go from the food stall as they pleased, taking away their goodies of delicious pork stuffed bread rolls and hot dogs smothered with caramelized onions away to keep them warm as they admired the spectacle of the bonfire and the delightful fireworks show. What a busy and brilliant, chilly November evening – it was a pleasure to be a part of such a successful event and we can only aim for such success again next year with another hog roast Lytham!