Abi and Mandy were having a civil ceremony to celebrate being together, they were so excited about it and so were friends and family. They wanted the day to be very different to any other ceremony that had taken place in the past.
The Lake District seemed a fantastic place to hold a beautiful ceremony! The ceremony itself would take place in the grounds of a local hotel and as it was such a beautiful day it couldn't have been any better. As there were such a lot of people being invited it was too much for the hotel to cope with the catering so we at Hog Roast Keswick were asked if we would do a hog roast for the reception. We were delighted to be asked to be the ones who would do the reception meal.
Abi and Mandy wanted it to be very informal where everyone could mingle and relax in each other's company. Warm baby potatoes in herby butter and a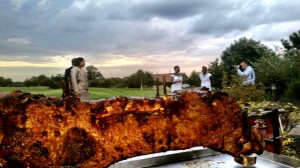 tomato pasta were to sit alongside crunchy freshly prepared salads of different kinds. Homemade crunchy coleslaw and grilled corn on the cob were also chosen. Our very tasty homemade sage & onion stuffing was to accompany the very slow cooked spit roast pig. Which after 6 plus hours turning on a spit is cooked to perfection with crispy crackling. Our secret ingredients make the pig taste of the most wonderful flavour. Homemade apple sauce has just enough sweetness to be the perfect partner for the spit roast.
Hog Roast Keswick are well known for our succulent meats that are tender and full of flavour. A large chocolate brownie with ice cream and fresh seasonal berries were to be served for dessert. This was to be followed by the cutting of the cake which we were asked to cut and serve for all the guests. We are very happy to assist in any way we can to make an event perfect.