The gloriously hot and sunny weather of the past few weeks has increased Hog Roast Pickup Bank's enquiries and bookings for social events. The most formal of these events however, was a summer garden party that the clients were holding for 10 of their closest friends. The theme was 'magical midsummer' and by working closely with the clients the team managed to concoct a menu that was as magical as the clients had hoped.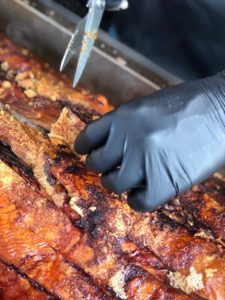 The clients worked closely with the Hog Roast Pickup Bank team to put together an exciting, formal, tasty menu that met their budget. The clients wanted a formal, sit down meal from their guests, so the Hog Roast Pickup Bank team booked in their experienced, friendly wait staff to help serve at the event.
The menu the clients created included a selection of five canapés to be served as the guests arrived, these canapés included: mini pizza, mini quiche, Peking duck wraps, feta skewers and an Indian selection. The clients also supplied champagne for their guests, which the Hog Roast Pickup Bank wait staff served alongside the canapés.  Following the canapés, the main meal was served as a buffet. The guests could choose between chicken kebabs and meaty marinated spare ribs or a Classic Hog Roast. Alongside these tasty treats the guests could choose between green leaf salad, crispy Thai salad and couscous, rounded off with tasty jacket potato wedges.
After having enjoyed those tasty canapés and the main course the guests could choose between succulent chocolate profiteroles or a slice of zesty lemon tart for pudding. Both were served with an option of fresh cream.
The Hog Roast Pickup Bank team worked hard for hours before the event to prepare all the dishes fresh on site, so that when the guests arrived to enjoy their formal meal at 7pm it was all ready to be served.
The event was a great success and the clients and guests had a wonderful time. As the Hog Roast Pickup Bank packed away the equipment and cleared the rubbish at the end of the event they were left feeling satisfied at the service they had provided.