We catered for a large corporate event mid week with a Hog Roast Worsley and they were amazed at the cost. We put on a feast fit for a king and as always kept the cost as low as possible we believe in giving value for money and with amazing suppliers we do just that.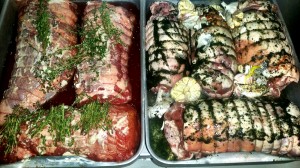 We arrived early morning for the meal to be served at noon and started by placing lamb on the machines lamb cooks incredibly well on our hog roasting machine and literally just falls apart we shredded the lamb and the guests placed it in buns smothered in dips and fresh salad. We also poached some wonderful fresh salmon and dressed it in cucumber and lemon and it looked amazing on the plate the guests really enjoyed the salmon and the cheese board too. We placed an assortment of cheeses and freshly made chutney with crispy rolls and it had great review too from the guests. The luncheon was a huge success and the guests were all coming over saying the Hog Roast Worsley was incredible!
We offer a great deal and variety is everything we like to impress and impress we always do. The head of the company said that he never imagined the food would be so good quality and especially on what we charged but that is what we love to do – we love to shock guests with the quality of the food for the cost they pay and that makes customers come back to us time and time again. We left some menus and guests were eager to pick them up and we had lots come up to us after asking if we did Hog Roast Worsley private parties? And we said of course. The lamb was so tender and the smell is indescribable cooked the way meat should be cooked so tender and full of goodness. With over thirty years in the business we consider our self as leaders in the catering field and by the amount of bookings we receive each week our customers also agree and we get regulars coming back for more to say we are proud is an understatement.