Hog Roast Wirral is a popular catering choice both locally and further afield and for just about any kind of occasion that you can think of. We cater wedding receptions, birthdays, christenings, corporate functions, anniversaries, engagements, school fetes, hen parties and so much more, as these days hog roast catering really is fit for any type of event. Years ago, it was for the rich and for royalty, in recent times it was only really for large parties such as lavish weddings but nowadays, there are options for each and every budget, for all numbers of guests, and you may well be surprised at how economical it is. Nevertheless, while our hog and spit roasts are more than suitable for any occasion and number of guests and to suit all pockets, we also provide other tasty culinary options which are too, including our amazing Southern Slow Roast Menu.
Just recently, we were asked by Andrew to cater a family reunion at a private home in Thingwall, a village on the Wirral Peninsula, with our Southern Slow Roast Menu. With 35 guests invited, this varied menu would be ideal to provide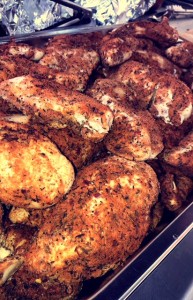 several dishes so that everyone would be satisfied, as it features three marinated meats of a possible five and four sides from a possible seven and there's even a vegetarian option if required, such as veggie kebabs. The delicious meats themselves are all roasted at a low temperature for hours and you can choose between spicy lamb, sticky pork ribs, beef brisket, Cajun chickens and bbq pork, which are all marinated in our secret recipe rubs. These are served at the optimum temperature alongside the tasty accompanying dishes, and we also provide fresh bread rolls and wraps, condiments and different sauces that accompany the meats.
For this family party, Andrew asked Hog Roast Wirral to cook our barbecued pork butt, Texan 24-hour beef brisket and Creole-spiced lamb in addition to us supplying several sides. You can choose from mac and cheese, a green leaf or Greek salad, our homemade coleslaw, corn cobettes, jacket potatoes and sweet potato wedges.
Hog Roast Wirral cooked up a storm on the day and the family reunion went with a bang, with all the guests devouring our yummy dishes in the early afternoon.