Are you worried that having an outdoor wedding in November is something that might spark concerned glances and incredulous comments from your guests? If so, you're definitely not alone! But as the evenings grow darker and colder, couples all over the country have been making the most of the stunning scenes which are formed by having bare trees and a thick carpet of burnt orange and fiery red leaves in the background of every photo.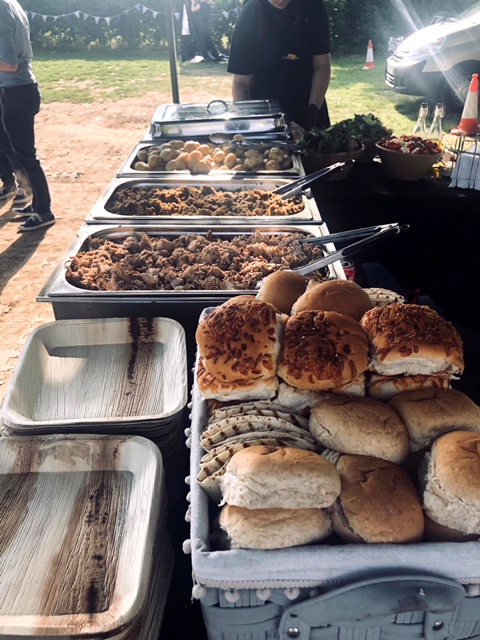 While the preferred time frame for getting hitched falls perfectly into the allotted few months that is known as wedding season, ceremonies which take place on the cusp of winter are equally (if not, more so) romantic and magical. Of course, the ever-unreliable British weather has a way of putting a dampener on these special events (literally!) which is, understandably, what puts many couples off. But what if we told you there was a simple solution?
At Hog Roast Bacup, we can cater for indoor and outdoor events with equal ease at any time of the year! Whether its rain, sleet or snow, our team have the means and motivation to power through and deliver a gorgeous feast of slow roasted meat which is guaranteed to keep your wedding party warm from within, no matter what the thermometer reads!
With their hearts set on an outdoor ceremony, Jenna and Andy loved the idea of having a winter warming feast for their special day, and with the help of Hog Roast Bacup, they managed to find the perfect menu for the occasion.
Our southern slow roast spread has remained an extremely popular menu among our customers and clients for decades, and it's very on-trend with the rustic/pastoral wedding style that so many couples are going for at the minute. Choosing from the selection of pre-marinated meats, Jenna and Andy had opted for the BBQ pork butt, Cajun spiced whole roast chickens and creole pulled quarter of spiced lamb with a collection of mouth-watering sides including mac and cheese, loaded fries and buttery corn cobettes.
Hog Roast Bacup served the highly anticipated feast to the ravenous wedding party of 20 last weekend, and to the couple's delight, everyone loved the spread so much that they returned for seconds!