Hog Roast Ribchester recently catered something a little bit different – a viewing party. While we have spent years catering all kinds of events like birthdays, weddings and corporate functions, this was the first time we were asked to cater an event like this. A viewing party is where people gather to watch a TV show and it's fairly popular these days, for when a TV show airs the first episode of a new series, and sometimes people dress up for it. Amy had asked us well in advance to cater her Game of Thrones viewing party, where she had invited friends to gather round and watch a new, long-awaited episode after first feasting on some gorgeous food cooked by yours truly.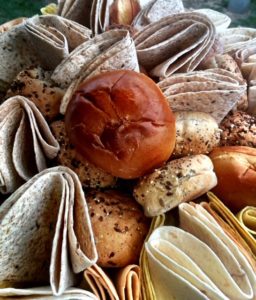 Our Hog Roast Ribchester chefs can cook both hog roasts and spit roasts, as well as provide additional and alternative options. For Amy's event, she asked us to cook a hog so that we could make a feast of pigs in buns, which she had previously enjoyed and wanted to share with her guests, knowing they would love them just as much. The episode was due to start at 9pm, which is when everyone would need to have finished eating, so our team would have to be there in the afternoon in order to prepare and cook the beast to perfection and we aimed to start serving by 7.30pm.
On the day of the party, our Hog Roast Ribchester team members arrived at Amy's home, the venue, hours before service, and set up our gazebo, serving tables and hog roasting machine. Before long, our chef had prepared the meat by scoring it, adding water and lots of salt, and then it was sizzling away.
Nearer to the time of service, Amy and her partner Hugo decorated inside and outside the house Game of Thrones-style and both commented on the amazing aromas coming from the hog roast machine. By the time the hog was perfectly cooked and resting, Amy and Hugo were dressed as Daenerys and Jon Snow, and they welcomed their guests to dine on our scrumptious pigs in buns, with fresh bread rolls and wraps full of meat and crackling, topped with apple sauce and stuffing, both our own recipe. All of the guests had seconds and then finally, it was time for us to clear away as they settled down to watch their favourite show.