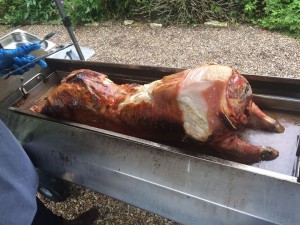 We got a call recently from a customer asking us to help cater for their luau party with a Hog Roast in Rishton! I've yet to visit Hawaii, but from what I've seen on American TV shows, a luau pig Hawaiian style is where it is baked underground. Unfortunately, we can't do this, as our hog roasts and spit roasts are all done above ground, roasted in machines! We cook whole pigs or other joints of meat slowly and thoroughly, for several hours, and it's probably less messy than burying an animal underground. It's actually easier than you might think to cook this way and if you decide to have your own DIY event, we can walk you through this until you're comfortable.
With regards this customer, we had to be honest and say we didn't know if they would find anyone in this area of the UK who could cook an actual luau pig. In the end, he decided on a Hawaiian party theme with aspects of a traditional luau, and with one of our famous hog roasts so that they could still have pork sandwiches in Rishton. Now that we can do.
Personalised invitations had been sent to the party guests, stating that there would be music, dancing, games and of course a pig roasting away. When we got to the venue, we marvelled at the brilliant decorations – it must have taken hours. There were palm trees, cardboard cut-outs of dancing hula girls, inflatable parrots and burning bamboo torches lighting the garden. The table decorations of leaves, pineapples and tropical fish were some lovely finishing touches.
The older guests were tempted to limbo under an inflatable limbo stick while younger guests played on the Hawaaian-themed bouncy castle. Everyone got to wear their own lei, the flowers that you hang around your neck, and many of the guests turned up in fancy dress – there were colourful Hawaiian shirts and hula skirts everywhere.
The party was for around a hundred guests and the host had asked for us to bring a 50kg hog to feed them comfortably. Everyone feasted on delicious roasted pork sandwiches as well as Hawaiian chicken, Polynesian rice and Hawaiian poke, which were all supplied by another caterer. What a truly fantastic party and the Hog Roast in Rishton went down a treat!