Last weekend saw the Hog Roast Ardwick team hit the streets for a fun-filled food festival – and we're still buzzing over it! The event, which had been organised by a group local to the area, had been the talk of the town for weeks beforehand, and as time-served caterers, our crew couldn't wait to get involved.
Speaking to our extremely talented catering manager, the client, Adam had begun by asking about our availability and all of the packages we have to offer. Luckily for him, Hog Roast Ardwick was available exactly when he needed us to be, and after talking him through our vast selection of menus, he decided to keep things traditional by opting for our classic hog roast menu. But with so many people expected to attend the event, the team had also encouraged Adam to include some extras on the menu for non-meat-eating guests, as well as a handful of side dishes to spice up the main feast – which he loved the sound of!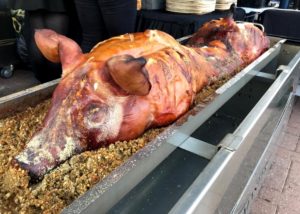 When the day of the festival arrived, the Hog Roast Ardwick team woke up bright, early and rearing to go! The busy day that lay ahead of them started in the early hours of the morning and saw them travel to the town centre in the next town over, where they began setting up a stall featuring a slow roasted pig nestled in a bed of homemade savoury stuffing – but they weren't done yet. While the pig roasted low and slow, the team whipped up the grilled veggie and halloumi skewers with tzatziki dip on flatbreads, creamy coleslaw, garden-fresh salads and gluten-free rolls which they set out alongside a tower of disposable cutlery and plates.
The first of the guests arrived just shy of midday, and working like a well-oiled machine, the Hog Roast Ardwick catering crew began serving up platefuls of juicy pig and refreshing salads. Of course, this food festival was a little bit different than our usual ones. Instead of welcoming swarms of people to the gazebo, our mask-clad team encouraged social distancing at all times which helped everyone to feel safe and secure.