Luke was very much looking forward to his retirement, and after many loyal service years dedicated to the same company, he really deserved a lovely send off. His employer wanted to make sure that Luke remembered the company and all the amazing memories created there, so he contacted Hog Roast Atherton.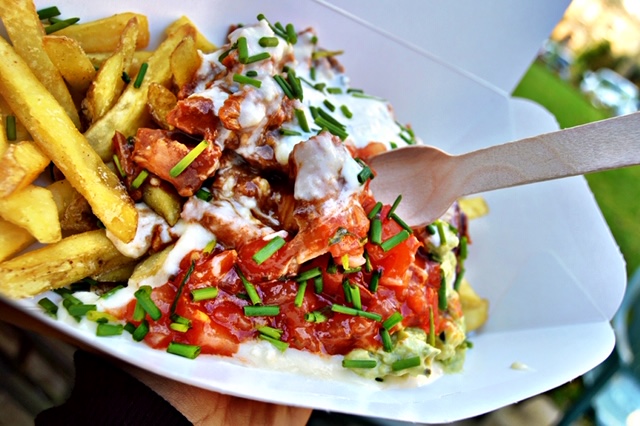 The retirement party was happening at there depot, where Luke had spent his whole working life. The guest list was about 80 as this was how many staff Luke worked with throughout his time here, the hog roast was to be served at 6pm after his final shift had finished.
Luke's employer wanted our classic hog roast to be the main feature, with a choice of new potatoes, sweet potato fries and normal fries and a variety of salads such as green leaf salad, crunch Thai salad and tomato and mozzarella salad. Alongside all of this would be grilled vegetable skewers for the vegan and vegetarian staff members, this would be displayed in a wrap with a choice of sauce to top. As well as all these treats, Luke's boss knew that he would love loaded fries to be on the menu as he had boasted about going to a festival where they served them.
The dishes were to be prepared on site, so Hog Roast Atherton arrived several hours before serving time. As the retirement party started the employees all started talking about the smell of the pig roasting in the corner and how amazing it looked. They couldn't wait to tuck in and get started on the crispy outside layer of the hog, seeing it bubbling from the heat. Luke was overwhelmed by how many of his colleagues turned up and couldn't help but make a speech about his amazing time with the company, whilst also giving a shout out to our team at Hog Roast Atherton.