Recently Hog Roast Blackpool were approached by a customer who wished to host a hog roast for a big family reunion. Lauren hadn't seen her father's side of the family since she was very young, and she and other relatives thought it was high time they all got together again. At first Lauren didn't know how to make the reunion extra special until a friend recommended the Hog Roast Blackpool team to her. Hearing how professional they were and how good the food was, Lauren hired them.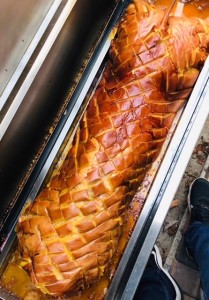 As Lauren worked as a primary school teacher, she and her fellow co-workers all thought it would be a great idea to have the hog roast there; it was the height of summer and there was plenty of room on the school field to set up the roast. The turnout was more than what Lauren expected – almost every relative on her father's side showed up, and what's more they had the opportunity to meet Lauren's workmates as well as catching up with her mother's side of the family.
Everybody was pleased at the sight of the hog roast and the wide array of sauces, side dishes and vegetarian options. As the clientele was so varied, there was a need to ensure the food was flexible and there was something for everyone, which there was. Overall the day was met with success, with several of Lauren's family members, fellow teachers and herself giving great feedback. The food surpassed their expectations, with many raving about how well cooked, tender and succulent the pork was, as well as being more than satisfied with the high standard of service provided by their staff and the overall organisation of the event.
Because it was such a perfect and successful day, Lauren was able to re-bond with her distant family members, introduce them to her new friends and family and overall expand the family network. Hiring the Hog Roast Blackpool team was definitely the right choice for Lauren because of this and it also gave the team an opportunity to show off their culinary prowess and expand their own client base.