In August, Emily celebrated a fantastic twenty first birthday with Hog Roast Burnley. After leaving university, the budget for her party was a little tight but she wanted the create a night that everyone would always remember. She hired out a student bar yet was a little strained with the budget she had left over to provide food for her guests. The perfect solution was the Hog Roast Burnley team that could provide a brilliant spread of freshly prepared food for an affordable price to complete her dream birthday.
With the affordability of the hog roast, Emily was also able to invest in decorations and a DJ for entertainment. With the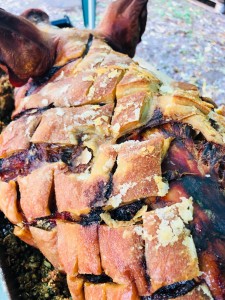 arrangements all set, the Hog Roast Burnley team arrived early in order to set up the hog roast before the guests arrived. As her friends and family approached the venue, they were greeted with the most amazing aromatic smells from the hog roast and presented with a fantastic spread of food. As the party began, the hog roast team worked hard to ensure that there was more than enough food for everyone and that it would all be ready right in time for the guests to eat, leaving just the right amount of time for the cake cutting.
Once the evening had flowed into night, and as the party continued on, the music mixed with the amazing smell and food from the hog roast, and with the chatter and clink of champagne glasses, a fantastic atmosphere was created that completed Emily's celebratory party.
The guests praised the hard work of the hog roast team as they worked through the slightly chilly evening over the slow-cooked fresh food. Even as the guests returned for seconds and thirds, the team provided more and more food until all the guests were satisfied and returned home, maybe slightly tipsy, after a party that raged on into the early hours of the morning. Emily successfully completed her dream twenty first birthday with the help of the most amazing hog roast team and all of her guests were pleased with the amazing celebration.