Here at Hog Roast Bury, we are no stranger to party celebrations of any and all kind. So, we were ready, prepared and eager to provide when we got ask to cater for a wedding reception.
No matter what the size be that small and intimate or large and full, we here at Hog Roast Bury are happy and able to provide to all venue sizes. This time for Deb and Joe's wedding celebration we had to be prepared to accommodate 200 lovely guests.  Due to the decently sized number of attendees, we thought it would be best to use our Platinum Hog Roast machine to efficiently cater for everyone.
First time client Deb chose to book with us at the recommendation from her sisters Louise and Diane, who had eaten with us previously at their boss's retirement party.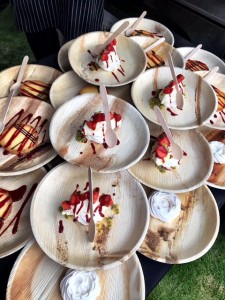 The special day took place during the last Saturday of the month, with spirits high, the happy couple of 15 years proclaimed their vows to each other while us here at Hog Roast Bury, entered the marquee early to set up as to make the food be cooked to perfection we have to start a good few hours before we are set to feed the hungry guests. A robust, succulent pig was set to slowly roast while the couple were being wed. The marquee was decorated with a lovely cream and silver theme, that only highlighted and brought attention to the contrasting colour of the perfectly cooked golden-brown meat.
After the ceremony had concluded, the joyful guests entered the marquee where the celebrations would continue through the night. Luckily the weather had already set the tone for the evening. As the friendly guests were pleased that the weather had stayed bright and unclouded for the actual ceremony, and more importantly the wedding photos.  Lucky for us too, the weather continued to stay warm which kept the guests just as happy as before as they tucked into our freshly prepared food.
From the opinions expressed by the guests, our classic hog roast was the favourite as always. However, they were also pleasantly surprised by our wide selection of foods, which included our vegetarian opinion and vibrant green salads. As well as our tempting indulgent deserts filling up the couples satisfied family and friends. The food had been served, savoured and a success with all guest, meaning that our job had been done.  All that was left to do was collect the plates, pack up and let the celebrations flow through the night.