The Best Hog Roasts in Carnforth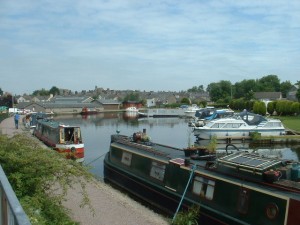 Before I tell you about my work as a hog roast hire Carnforth caterer, you may find it of interest to know what drew me to this area of Lancashire in the first place. After all there are many wonderful locations in Lancashire and throughout the north west that I could have chosen to serve, so what makes Carnforth so special. Well, I have a confession to make. I have two hobbies that dictate much of my life outside of hog roast Carnforth catering. One is movies, I simply love movies of all kinds, but I am a huge fan those old British classic movies. They simply don't make them like they used to. My other passion is railways. Now, don't yawn, I don't spend hour after hour on the platform with a camera. I simply love the romance and nostalgia of them. Again, it is something that is quite special.
So you may be thinking, what has all this got to do with a hog roast hire caterer in Carnforth? Well, it is the location of one of the greatest movies in history, Brief Encounter. What more could you possibly want? A classic British movie partly set in Carnforth railway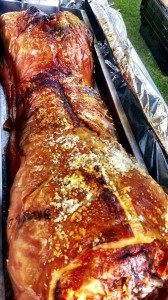 station. I could not ask for anything more. Well, I could ask for more and that's to earn a living too. Thankfully. I was very lucky to get the chance to be the hog roast Carnforth caterer and I am now in the wonderful position to be serving the five thousand people of this Lancashire town with another old classic, the hog roast.
The chance to get out and meet so many lovely people and cook for them really is a wonderful job. I love cooking and I love meeting new faces so this really is my ideal job. The fact that I am able to cook such a traditional feast as well is really the icing on the cake. A lot of people do seem a bit confused about hog roast as they sometimes question just what it is I am cooking! Some people ask if it's wild boar I'm cooking but I soon clear up any confusion. I explain that hog roast is actually whole pig, but not just any old pig. You see, like many other hog roast Carnforth caterers, I take a lot of pride in my work and that starts with the choice of meat. I demand the best from my suppliers and they don't let me down, giving me great quality pigs that have responsibly reared. And this meat makes a big difference. You really can taste the difference compared to regular pork.
I also get a lot of questions about the actual process required to cook a hog roast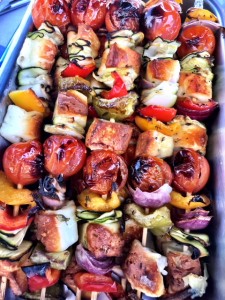 Carnforth. I think many people get confused by the fact that they've cooked belly pork, ribs and chops at home and think that it's a pretty similar process. If only it were! Hog roast is a whole pig, so try fitting one of those in your typical oven! No, hog roast is about making an impression and the cooking is just part of that process. The hog roasting machine is the modern equivalent of the open fire which hog roasts would have been cooked on in Medieval times. An open fire is not really an option at most events and this machine does a much better job anyway, plus it looks superb. I can regulate the heat in order to cook the whole pig so it is perfectly done. It takes time, too. My evening will start way before your event as it takes me six hours to cook each hog roast. The reason it takes so long, well it's a big piece of meat for starters and that means more cooking time. The other reason is that slow roasting is the very best way to generate the most flavour from the meat. Rushing the cooking process would simply not allow those critical flavours to develop. And of course, you need lots of cooking time for that absolutely essential part of a hog roast hire Carnforth: crispy crackling!
This really is the perfect job for me. I get to serve some delicious food at some wonderful events and get plenty of opportunities to see one of the most important filmsets ever. I just hope that one day there will be an event where hog roast is required at the railway station. Now that would be something quite special. In the meantime, I am more than happy being hog roast caterer for the people of Carnforth.