Hog Roast Leyland provides great, wholesome food for all kinds of special occasions and at a very competitive price, too. While we're popular for corporate events and weddings, we also cater lots of other private functions, too, from birthday parties to engagements and christenings, and much more. Regardless of the type of party or event that you have in mind, you'll find us to be friendly, knowledgeable and flexible, as well as helpful with your wants and needs. We have lots of options for you to choose from too, whether it's our simple yet amazing hog roast rolls, a barbecue, several courses of fancy food or something entirely different, and we have choices for guests with dietary needs, too, as we want all of our customers and their guests to love our food.
We were recently asked by Jonathan to cater a party at 10ofThose in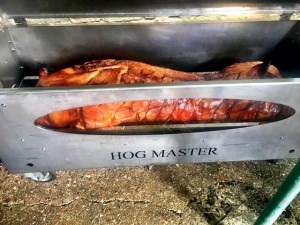 Leyland, at the main distribution centre on Tomlinson Road. 10ofThose is a limited company that uses its profits to distribute Christian resources across the world and they sell their items at their Christian bookshop which can be found at the main distribution centre, too. There are free hot drinks and WiFi for customers, as well as comfortable seats, so there's need to rush when you buy your bible–centred resources from here!
On the day of the event at 10ofThose, our Hog Roast Leyland team arrived hours before service, as we would be roasting a hog from scratch in order to put together and then serve our sumptuous pigs in buns to 120 guests. Our chef Dave prepared the meat and then kept an eye on the hog as it cooked away and then nearer the time of service, it was time for our team to slice the bread rolls, dish up our homemade duo of apple sauce and sage and onion stuffing, and get the condiments ready. Once the hog had rested a short while, Hog Roast Leyland carved off the crackling and sliced into the hot, fresh meat that had been sizzling away in its own juices, and it was finally time to feed some hungry guests.