If we're being completely honest, there's nothing that says 'I love you' quite the way a hog roast does. Just picture it; a freshly baked bap, overflowing with fork-tender hog meat and crispy crackling, topped off with applesauce, crunchy slaw and sided by light and leafy salads and piping hot chips. We believe it's the best way to anyone's heart – and, with Valentine's Day fast approaching, it's the perfect gift for that special someone in your life!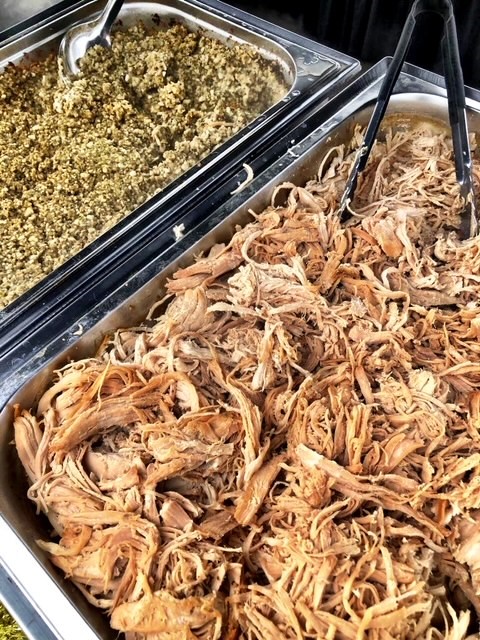 But with everything that has been going on over these past few weeks (months, year…), V-Day might have slipped your mind this time, leaving you now, with less than a couple of days to get something sorted out. Hey, it happens- even to the best of us! Although you're in with a stroke of luck because at Hog Roast Chadderton, our diary still has some space left for a few last-minute bookings.
Because we know that enjoying a romantic dinner with your other half is one of the best-loved things about Valentine's Day, Hog Roast Chadderton has made sure, that despite lockdown restrictions, all of you lovebirds out there can still keep this tradition alive thanks to our Gourmet Delivery service. Just call us Cupid!
In addition, we think you'll be pleased to know that the process of booking with us is smooth and completely effortless on your end. And once you've chosen your ideal feast from our vast collection of menu options, our team will work hard to get your order delivered to you at a time that is most convenient for you.
Rest assured that all of our food is hand prepared, (using the highest-quality ingredients available to us) by our team of professionals on your chosen date of delivery, so you can thoroughly enjoy fresh-tasting and delicious dishes that are not only tailored to suit your individual taste preferences but are also affordable.
With lots of orders to fulfil this weekend, Hog Roast Chadderton's established catering management team, and couple, Jordan and Sophie have a very busy few days ahead of them, so if you've yet to place your own order, it's best not to hesitate.