With gardens being a bit scarce in the local area, a group of green fingered neighbours decided to pool their efforts and resources and apply for an allotment patch together. It allowed them all to indulge in a much- missed pastime and achieve something as a community, and sharing it meant no one was under pressure to maintain it alone.  It turned out to be a great idea and before too long everyone was enjoying to fruits of their labour. After a year of tending to their allotment together, they all decided to have a party to celebrate. Since it was the allotment that had brought them together and where they enjoyed being so much, they wanted to have their party there, but they thought transporting everything they needed there would be a logistical nightmare, and they wouldn't be able to get outside help with the food, as no catering company would dream of cooking at an allotment! Luckily for the group of gardeners they were wrong on that front, because when they called Hog Roast Chester we assured them it wouldn't be a problem for us at all!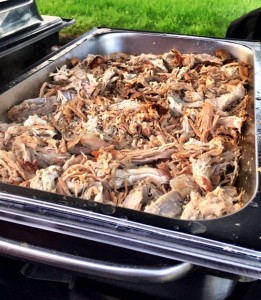 We had no issues whatsoever accessing the venue and setting up our efficient mobile kitchen! It was great being outdoors and cooking next to homegrown vegetables that were as fresh as our own ingredients! Being into growing their own vegetables and eating fresh, locally-grown food, they also loved the fact that Hog Roast Chester only uses locally-sourced ingredients ourselves, and they couldn't believe they had found such an ideal catering solution for their party!
It was great for the group to relax for once and let someone else be doing all of the hard graft at their allotment, as usually they are all busy digging and weeding when they are there and don't have time to sit back and enjoy it. But on that afternoon, they were treated to some great slow-roasted pork courtesy of Hog Roast Chester and they all loved being able to spend time together celebrating what they had achieved by working together!