In the recent weeks, the team at Hog Roast Chorley were asked to cater for an unusual event that would take place in a local park. We were first contacted by Billy, a local artist who had organised a competition in order to get more people interested in art and painting. The competition would involve twenty amateur artists, who would be asked to produce a portrait of a live model within a six hour time frame. The event would also be open to the public to come and watch and Billy had decided he needed a way of feeding his guests and his competitors, and so he came to us for help.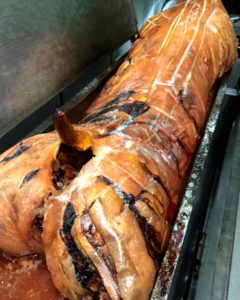 It was a two man team from Hog Roast Chorley who would cater for such an exciting event, and they were on hand a good four hours before the competition began, in order to butcher and begin roasting the hog as well as setting up a Gazebo and serving tables for guests to help themselves to sauces. The amateur artists soon arrived, and set up their easels in a circle around where the live model would sit. The model was our host Billy, who sat in the centre, trying to be as still as possible.
A crowd was already gathered before the competition started, thanks in no small part to the smell given off by our wonderful Hog Roast which was attracting people far and wide. After two hours of painting, the team from Hog Roast Chorley were ready to serve, and queues quickly formed. We prepare all our quality cuisine on site, using only fresh ingredients, and that certainly came across in the finished product, as we had a number of guests commenting on just how fresh and tasty our pig in buns were. Half way through the competition, the artists took a break and grabbed a bite for themselves.
In the end there were ten completed paintings and ten works in progress, all to varying degrees of skill and likeness, however the large crowd and excitement that had built around the competition was evidence enough for Billy that he had achieved what he had set out to do.