With its warm and welcoming atmosphere, a friendly squad of bar staff and regular theme night events to celebrate, the Travellers Rest Pub in Chorley is everyone's favourite local. And very recently, our team here at Hog Roast Coppull loaned a helping hand to the establishment, where we assisted them with the flawless execution of a succulent Sunday spit roast for the 100 guests who had booked tables for the exciting occasion.
Speaking with Andrew, who had been tasked with making the food arrangements for the day, Hog Roast Coppull's skilful catering management duo, Sophie and Jordan, were able to provide key insight and advice, which led the client to choose our hog roast rental option!
Offering our patrons the chance to create their own delicious hog roast feasts, using our expertly crafted cooking equipment and traceable ingredients, which are sourced from local suppliers who hold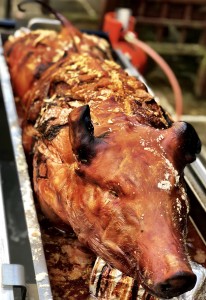 ethical accreditations, this service has become an increasingly popular choice for both businesses and private customers alike. And for the Travellers Rest crew, it seemed like the perfect way to treat their punters and learn a new cooking skill in the process.
As usual, Sophie and Jordan were all too happy to assist with the client's needs, and so ahead of the event, they invited the Travellers Rest team along to our HQ to learn the ropes. With our expert caterers on hand to help them, it didn't take long for the clients' to master the spit roasting skill, and before long, they could do it without our team's involvement. With their practice runs proving to be a resounding success, Travellers Rest took to social media to show off a glimpse of the crispy, golden hogs that guests could expect from them the following week, which resulted in floods of messages from eager customers!
Before too long, it was time to put their newfound skills to the test. So, last Sunday, after Hog Roast Coppull dropped off a HogMaster Glass machine, along with gas canisters and a mid-size pig, the team immediately threw themselves into the necessary preparations, which resulted in a gorgeous spread of juicy pulled pork, sweet applesauce, stuffing and delicious crackling with yummy salad sides, that had guests hooked from the first mouthful.