Whilst Hog Roast Dunsop Bridge are professional caterers, supplying hog roasts all round the country, we also run a machines store. From our factory, nestled in the heart of Lancashire, we design and handcraft each and every one of our machines that our chefs and catering teams go on to use day in and day out, supplying delicious slow roasted food to our clients. One of the perks of building our own machinery is that it means we are able to build them to our exact specifications and know just what it takes to create the perfect roast.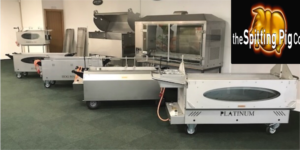 In our eyes here at Hog Roast Dunsop Bridge we want everyone to be able to experience the joy we get from cooking incredible slow roasted food on our machines, hence we also sell and hire out our machines to culinary minded members of the public. What's truly great about our intuitive machines is that even with little to no previous culinary experience, everyone is capable of a great hog roast because the machine takes care of all the hard work for you!
This weekend we were on route to deliver one of our Hog Roast Dunsop Bridge machines to Ross. Ross had been a customer of ours for some time and had always been keen to see how our chefs used our machines to produce, in his words, 'the tastiest food in the world'. At the last event we catered at for one of Ross' friends, he had finally decided he wanted to take the plunge and purchase one of our machines so he could learn to cook roasts like ours. Of course, we were happy to put him in touch with our factory and arranged for him to visit in person.
At the factory visit Ross was spoilt for choice thanks to our extensive range of machines, each one suited for different purposes. For example, we have our Platinum machine, paired with its dual roasting trays and spit roasting attachments this machine is the must have for professional hog roast caterers. On the opposite end of the spectrum we have the Hogmaster Pro. This machine is our smallest to date yet still capable of roasting a small hog whole and ideal for the amateur caterer. Ross chose the Hogmaster Pro as he was new to catering and excitedly arranged his delivery slot…