It's beginning to look a lot like Christmas…And now that we're just days away from the annual celebration, the festive party season has noticeably increased in momenta! For the Hog Roast Farnworth catering crew, this has meant handling back to back bookings from client's looking to end what has been an incredibly tough year with one of our tasty, hog roast feasts. 
The good news is, we love this time of the year – and we treasure the busyness that comes with it! So, when Heather from Trust Ford Retail asked us to step in and manage their corporate Christmas do, we couldn't say yes fast enough.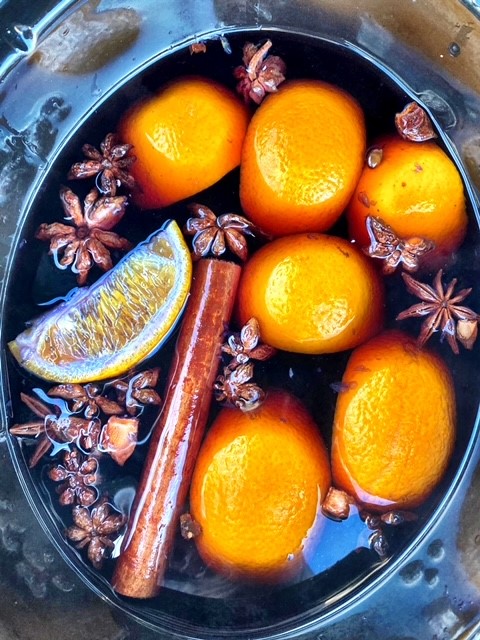 Our catering managers Sophie and Jordan, are excellent at what they do, and after taking over the reins, they quickly discerned the client's goals for the event and set about making suggestions
With 70 people to cater for, our classic hog roast menu with vegetarian and vegan alternatives seemed like the ideal fit for the occasion, to which Heather couldn't have agreed more. And what with it being Christmas, an added festive treat of non-alcoholic mulled wine and toasty hot chocolate was a much welcome bonus.
On the morning of the Xmas lunch, Hog Roast Farnworth set up the catering tent and cooking equipment in the Trust Ford Retail staff car park, and after a few solid hours of rotating the pig over a real flame, the meat was ready to be carved and transformed into glistening pulled pork.
Whilst the concoction of dark fruits, cinnamon and, citrus brewed, forming the beautifully-spiced mulled wine, Sophie and Jordan piled the crispy crackling, sage and onion stuffing and fork-tender carvings of pork into chafing dishes to keep them warm. After which, they chargrilled the vegetable skewers, some of them featuring chunks of Greek halloumi cheese, and served them up with tzatziki dip and flatbreads.
At 12:30 pm, the staff piled out into the car park where they eagerly formed a distanced queue at the buffet table to fill their disposable plates with dishes from the mouth-watering menu. By the time Hog Roast Farnworth had finished serving for the day, everyone had a smile on their face, and Heather has since been in touch to thank the team for all their efforts into making the day fantastic!