When booking a caterer for your event, it is normal to have a lot of questions that you need answering- since we know that it is important to hire the right team for the job! There are some questions that we receive frequently, so we have created a handy blog post where we can answer some FAQs…
Do you only cook hog roasts?
As the name Hog Roast Horwich suggests, hog roasts are our speciality- but they are not the only thing that we can provide. We can prepare a selection of other slow-roasts, including lamb, chicken and turkey, as well as grilled, spit-roasted and barbequed meats. Our range of dishes is incredibly large, with something for every guest to enjoy.
How long does catering preparation take?
Preparation time varies considerably, based on the dishes we are providing. On average, a slow-roasted pig takes 6 hours to prepare, although this time can vary based on size and weather conditions. All of our preparation takes place on-site, so you can ensure that every dish is freshly prepared with high-quality, delicious ingredients!
Which events can you cater for?
We cater to an endless list of events, but here are some that we frequently cater for: birthdays, weddings, Christmas parties, family gatherings, baby showers, anniversaries, corporate dinners, business seminars/workshops, Halloween parties, and New Year's Eve events. We can cater to any event that you want to host, so just get in touch today to find out which catering services we can provide for you.
Which catering styles do you offer?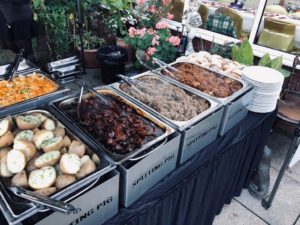 There are a few catering styles that we can provide. We can provide buffet-style catering, formal sit-down catering, and alfresco catering. This range of styles ensures that there is something for every event.
Hopefully, this blog post has answered some of the initial questions you may have about Hog Roast Horwich! We are always happy to answer further questions, so get in touch today to find out more about our catering services. To book your catering today, simply let us know your event size, date and location, and we can begin planning your perfect menu.