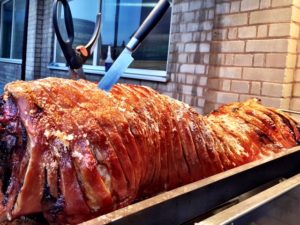 Hog Roast Irlam are Hog Roasting specialists. Whether that is the foodie's favourite succulent pulled pork on a Hog Roast or the carved pork from a spit-roasted pig that has more of a theatre aspect. During these events, the whole pig apart from the entrails is used up. It's believed that the pig's cheeks are the best part and if given the chance you should try them, therefore over the years we have had many guests enquire and have a taste.
To the chef carving, the cheeks are apparently difficult to get to and are overly moist when the piece of meat comes out however, according to the guest's feedback, totally worth it! Even the pig's ears and snout get claimed by any canine friends, especially if they have been patiently waiting all evening! The team at Hog Roast Irlam soon gain furry friends during private events such as garden parties. If the dogs aren't at the event, many loving dog owners enquire about taking the ears back for them.
Before cooking the pig, the catering manager will score the skin making slits for the skin to bubble. The skin is then rubbed with table salt and water, by doing this process creates rather crunchy crackling – the best part according to most! What's your favourite part of the pig? The moist pulled pork cooked in its juices on low heat for 12 hours or carved meat cooked equally all the way around by turning on a pole.
Hog Roast Irlam will tell you a secret… if you prefer tender and succulent pork that just falls off the bone and melts in your mouth with particularly crackly crackling then order a hog roast, on the other hand, if you want carved meat that still maintains moisture but not as tender as the hog roast and has the better crackling then order the spit-roast. The spit-roast also has the better theatre effect as guests can stand and watch it turning.