Sophie and Jordan, the pair at the forefront of our Hog Roast Kirkby Lonsdale franchise, were tasked with a very important booking over the weekend – they had been hired to provide catering for a comedy club night for which 200 people had purchased tickets.
The event, which had been a long time coming, was planned and organised by the club owner, Lucas, who, following the year and a half of bad news, confusing lockdown restrictions and everything else we've all faced recently, was desperate to make a show stopping comeback, while at the same time, giving his punters something to really smile about. And so, on top of sourcing some of the best up-and-coming comics to provide entertainment for the evening, he had also asked Hog Roast Kirkby Lonsdale to treat his guests to one of our sumptuous slow roasts.
As two of our top chefs, Sophie and Jordan, were full of excellent ideas from the get-go, which further proved to Lucas that he'd done the right thing by requesting Hog Roast Kirkby Lonsdale's involvement! For this occasion, the pair were quick to recommend our Hog Roast Dining Menu, which, while traditionally served outdoors in a buffet-style manner, this time around, it was agreed that having our waiting staff serve each plate to seated guests would be a much more appropriate decision.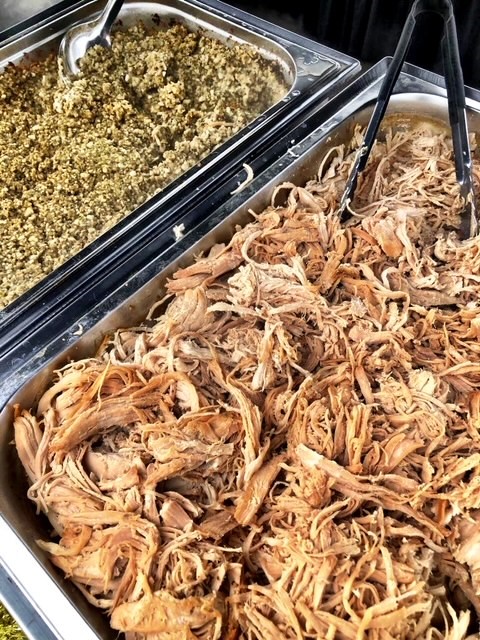 Skipping forward to the event, with the main focus of the night being the stand-up superstars, Hog Roast Kirkby Lonsdale had set up our equipment in the back corner of the club, which was well-ventilated and roomy enough to comfortably cook a large pig in one of our trusty HogMaster machines. And for those guests who didn't want pork? Well, the team instead prepared our lovely thyme and sea-salt infused free-range chicken with butchers chipolata sausages, cracked pepper and lemon on fresh-baked brown bread; along with an entirely meat-free option of grilled vegetable skewers with sweet chilli sauce, tzatziki dip and flatbreads. Tying the whole meal together, Sophie and Jordan also served creamy dauphinoise potatoes, coleslaw and a gorgeous heritage tomato and buffalo mozzarella salad.
The guests, who had been seated in socially distanced bubbles across the hall, had a wonderful time at Lucas's event, and they seemed to thoroughly enjoy tucking into the wholesome food that Sophie and Jordan had prepared!