Elaine and her friends meet up once a month for a decent lunch and a good catch up. Usually they go to the same local restaurant, but on the last couple of occasions, they had found the food below par and they were also getting bored of going to the same place. Elaine decided to host their monthly lunch at her house for a change, but since it was the only day she got off from cooking, she really didn't want to do the catering herself. At first she thought hiring caterers may be a bit extravagant if she wanted good quality food, or a bit disappointing if she went for a budget option. That was of course, before she saw Hog Roast Preston's excellent value for money and incredibly elegant private party menus! Elaine's eyes lit up when she read about our alternative meat options and she decided on our exquisite slow-roasted sirloin of beef, served with roasted potatoes, horseradish sauce and our own decadent red wine gravy.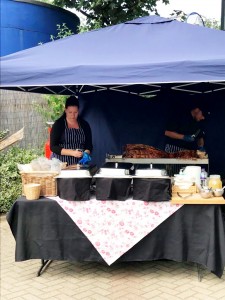 Elaine couldn't believe a chef and one catering assistant could produce such a sumptuous spread on their own in her back garden, but she soon realised how wrong she was when she saw the Hog Roast Preston duo in action! She couldn't wait for her friends to arrive to see the looks on their faces, as apparently a couple of them were a bit dubious about her hiring a hog roast catering company! They would soon realise when they arrived and tasted our locally-reared beef how extensive our repertoire really is!
When Elaine's curious chums arrived, their scepticism was rapidly replaced with delight when they saw the luxurious lunch that awaited them! They all agreed the beef was better than any they had ever tasted in a restaurant and they couldn't believe it had been prepared using our super-versatile hog roasting machine! We were happy to inform the ladies about how successful our cooking method is for all joints of meat, not just pork, and they had to admit that despite their initial reservations, Elaine had made a great decision in hiring Hog Roast Preston for their monthly meal and meet up!