The team at Hog Roast Lancaster were once again called upon to deliver their first class service and excellent cuisine to another corporate client this week. It may be a surprise to some, to learn that we also cater for corporate events, but the fact is we can cater for any pre-booked event in any location, and we've been making waves in the corporate catering world for over twenty years. Our latest clients are members of the board for a coffee retailer, who were meeting to brainstorm and discuss new product ideas.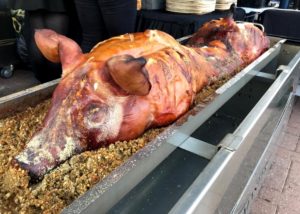 We were to provide a Hog Roast buffet with a selection of sides to the 20 board members that would be present at the meeting. Our contact was Natalie, who was at first concerned that we would have a minimum number of guests requirement in order to necessitate an entire pig, but she was delighted to learn that we can accommodate any number of guests and always take necessary steps to reduce waste. We arranged a choice of menu, time, date and location.
The team from Hog Roast Lancaster arrived at the venue, the company offices, and set up our Hog Roast Machine in waiting area just outside the board room where the meeting would take place. We were on site before most of the board members, as we needed to allow enough time for our slow cooking process, and meet the required serve time. Today we would serve at one o'clock, at which point the board members would emerge and our chef serve them their food buffet style. In addition to our Hog Roast, we also had the option of Cajun Spiced Sweet Potato Fries, Corn Cobbettes and a Seasonal Green Leaf Salad, all served onto real crockery with napkins and real cutlery.
The guests enjoyed their Hog Roast buffet in the board room, and when they had finished our catering assistant would clear their plates, as the guests passed on their thanks for the wonderful cuisine. Our team from Hog Roast Lancaster tidied away their mess discreetly and disposed of their waste offsite.