Client Dusty wanted a very special spooktacular birthday celebration for her and her 15 very best friends. Turning 30 is a once in a lifetime experience and Client Dusty wanted nothing more than to have a big, fun Halloween themed birthday party.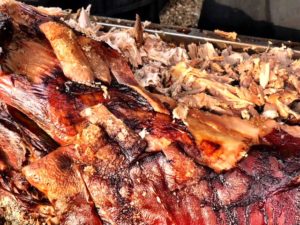 The client worked closely with the Hog Roast Nelson team to concoct a sizzling menu for the birthday girl's buffet. All the dishes were created by hand by friendly Chef Jordan. He was able to set up the catering gazebo, cooking equipment and lights under a shelter at the side of the village hall venue.
Catering Manager Jordan from the Hog Roast Nelson team worked hard to prepare all the dishes for the party so that they were ready for the 7pm serving time. As part of the catering package that birthday girl Dusty created with the team, the Hog Roast Nelson team provided not only the food and the Chef to create the dishes, but also provided cutlery and crockery. Dusty had had the choice of Hog Roast Nelson's crockery and cutlery, she chose to use the disposable crockery, cutlery and napkins for her event. All the rubbish from the catering would be taken off site by Chef Jordan at the end of the buffet and would later be disposed of responsibly by the team.
The buffet was a roaring success with Dusty and her spookily dressed guests. They had a whole variety of different, ghoulishly good dishes to enjoy. There was a Classic Hog Roast, complete with crispy crackling, homemade stuffing and apple sauce. There was also BBQ Pulled jackfruit, grilled vegetable and halloumi skewers and a large tray of sweet potato fries. Finally there was Chefs 3 choice of salads (one of which was carrot and orange with sesame dressing- an appropriately autumnal coloured dish!) and a basket of assorted soft bread rolls for the guests to tuck into.
Dusty and her guests were delighted. The buffet kept them well energised and they were able to dance the night away, Dusty said it was her best birthday ever.