In the heart of Pendle, at the foot of the imposing Pendle Hill itself, Hog Roast Pendle delivered a mighty feast for local witches, wizards and warlocks; all of a decidedly good nature and also with ravenous appetites!  The history of the area and this event stems from the 17th century when the likes of Demdike, Chattox, Alice Nutter and other "ne'er do well's" supposedly roamed the area performing malevolent and foul acts upon those that crossed them; or perhaps they were just misunderstood individuals who had the skills of healing and divinity…  Hog Roast Pendle certainly wasn't misunderstood nor foul, but fowl was on the menu with succulent whole roasted chicken, Cajun style chicken wings and hot and spicy chicken thighs alongside the traditional hog roast fare that you would expect; slow roasted pulled-pork, sweet and sticky pork ribs and pork crackling that any witch worth their salt would cackle for!
The area has great links to motorways and local roads up and around Pendle are easily accessible for young and old alike and on the day we arrived we were able to pitch up in a large field at the foot of Pendle and set up our equipment around 4pm in glorious sunshine that lasted well into the evening and with no need for our outdoor heaters nor rainproof canopies that we sometimes need to use in cooler and more inclement conditions.  Pendle lies in outstanding countryside with three peaks, Boulsworth, Weets and Pendle hills; they don't quite match the more famous Yorkshire Three Peaks but a walk along the 45-mile circular Pendle way, shows the variety, majesty and beauty that each offers with incredible views; local rumour has it that on a very clear day you can see Blackpool Tower from each of them!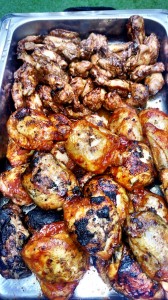 With the event starting around 5pm we were ready for the onslaught of black robed miscreants who wanted feeding after their pilgrimage to the top of the aforementioned hill and back down through what is colloquially known as the "nick o'Pendle".  They were certainly ready for it and with over one hundred mouths to feed; kids, teens, parents, grandparents and with most very creatively dressed in the spirit of the day, every one of them was clearly satisfied with the tasty food that we had to offer, chicken, pork and a huge variety of salads.  Needless to say, we were kept busy for a good two hours before discreetly packing and clearing up ensuring that the field area where we were set up was how we found it; already booked back for Hog Roast Pendle next year!