Hog Roast Stockport has a great team of hard-working professionals who always go the extra mile to ensure that our top-class service is matched by our delicious homemade food. We have various menus available to our customers and you can mix and match items between those menus if needed or we can even help you to create your own menu that's perfect for your special occasion.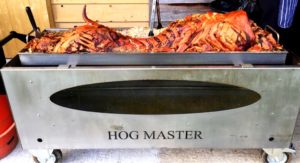 For a christening that Hog Roast Stockport catered recently, we were asked by Lee and Deborah to provide the food for the after-party, and the informal occasion with close friends and family would feature one of our traditional hog roasts. While many of our customers choose to enjoy pigs in buns made from our hog roast, some do prefer a meal of freshly-roasted meat, a potato dish and seasonal vegetables, all covered with our yummy homemade onion gravy, and this is just what this couple wanted for their guests.
When we spoke to Deborah in advance of the party, she asked us if we could provide a main meal of pork, crackling, new potatoes with herbs, carrots, peas and Brussels sprouts for the 28 guests. Having thoroughly enjoyed our hog roast in the past, the couple knew that their guests would enjoy it too, and Deborah asked us to make extra gravy on the day, as she couldn't get enough of it.
When Hog Roast Stockport arrived at the couple's home, well before the christening took place, it was to set up our equipment and prepare the fresh, local pig to be cooked. It takes a good few hours to roast a hog to perfection, so our chef got on with that and before long, after scoring it, covering the pig in plenty of water and then massaging lots of salt, it was soon sizzling away and we just had to keep an eye on it as it did so.
Later on in the day, our team freshly prepared the vegetables and potatoes, which then cooked inside the hog roast machine, while the hog cooked away above. By the time all the guests had arrived back from church, with baby Theo newly-christened, the meat had rested and was ready to carve and the guests were licking their lips in anticipation.