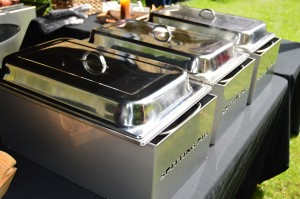 You can take the men out of Manchester, but it seems, you can't take Manchester out of the men, which is certainly true for Tony and his friends. They have all gone their separate ways since their university days together, but they have always remained united over their-well- distain for United! The lifelong Manchester City fans get together for as many matches as possible and after their triumphant team coming top of the Premiership, they just had to do something to celebrate! Tony decided to invite everyone round to his house to watch the last game of the season (with his wife's permission of course!), safe in the knowledge that they could sit back, relax and enjoy the game with the title already in the bag! He wanted to make a night of it and didn't just want to order a takeaway. Instead he wanted to do something special to mark the occasion and impress his footy friends in the process, so he asked Hog Roast Stretford to bring our fabulous fresh food and top-notch hog roasting equipment along to his back garden to cook for the lads whilst they enjoyed the game!
With 20 people to cook for, we certainly didn't require an 11-strong team to work our magic- just two will do! One of Hog Roast Stretford's skilled chefs and catering assistants are all the staff that are required to provide a fabulous meal for a smaller party. Much to the relief of Tony's wife, who already had enough to deal with, we also don't need to take up a lot of space and our multi-functional mobile kitchen has no problem fitting comfortably into any garden, even one that is done up to resemble a mini version of the Ethiad stadium!
Whilst the boys in blue were finishing off the season they had already conquered in style with a 1-0 win over Southampton in the injury time, our chef was finishing off the slow-roasted pork and his assistant was making ready with our sweet, smooth homemade apple sauce! The Hog Roast Stretford duo were more than ready for the pitch invasion as Tony's team poured out into the garden to enjoy the hog roast! With a toast to their beloved team and a toast to our contribution to their celebration, they all agreed the food was fantastic and a world apart from the burger van they usually get their post-match grub from!