We had what I thought was the first signs of Spring arriving this weekend when we were catering for an event in Tunstall. With an outdoor Hog Roast Tunstall planned for the weekend we were unsure on what the weather was going to be like but luckily the sun popped out in the afternoon and we had a lovely day!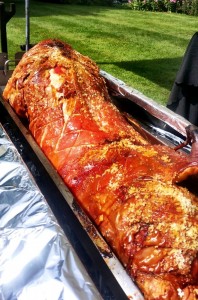 The event was for Steph and Steven's leaving party that they were hosting in their garden. With some fantastic plans for the next 6 months travelling around the world they wanted to get all their close friends and family together for once last time before they left as it would be a long time before they would see them again, what else would be the perfect send-off but a Hog Roast Tunstall. With 40 guests attending they had opted for the traditional hand held 'pig in a bun' choice which is the most practical option for a garden party. They were very prepared with the weather and had their own gazebo ready on the patio in case of rain and we erected our gazebo at the bottom of the garden so we had easy access to our van when required. As the party was only for 40 guests we only needed a small pig, the pig we had would have fed roughly 60 guests but we always leave any leftovers for the guests to enjoy later on anyway so this wouldn't have been a problem!
Steph and Steven had laid out nibbles and drinks for the guests who were all starting to arrive as were began to prep our salads. The pig had roughly 1 hour 30 minutes left to roast which would be perfect for our 8pm serve time. We had provided disposable plates and crockery which definitely saves washing up for the host, especially when having the party at home!
As 8pm arrived the guests were very eager to tuck in! As we lifted the hog up onto the serving tray all of the guests were stopped and focused on watching the process, as I began to carve the tender meat my colleague began to serve. If you have never seen or had a hog roast before it can be very surprising how much of a theatre piece that the hog  can be! Accompanied with apple sauce and stuffing it was the perfect choice for this lovely pre-spring evening, the sun was out yet the wind blowing, it still had that wintery feel! With a warm Hog Roast Tunstall sandwich to feed all of the guests, Steph and Steven couldn't have been happier with their choice of catering!