People are often surprised when we let them know about the diverse selection of meats that we offer when catering for parties, weddings and corporate events. I was recently told by a new customer that in the past she assumed that we would only serve pork, which doesn't appeal to her, and that she was surprised when a friend mentioned enjoying spit roast beef when using our company. I guess that's part and parcel of being known as a hog roast company!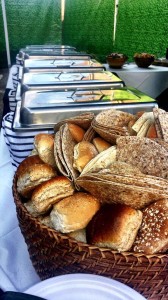 The lady in question recently asked us to cater for a hog roast Tyldesley garden party and was clearly impressed by the fact that we offer much more than just pig. While a roasted hog is extremely popular, we do feel it's very important to offer more variety and for this party we arrived with the requested spit roast spring lamb that we lovingly season with rosemary. Served with mint (of course) and a sauce of mustard and dill, this dish always goes down well, but especially so with our older customers.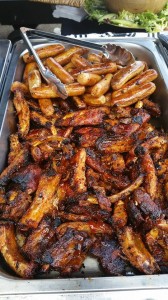 The lamb takes several hours to slowly cook, so we arrived early to set up – just as the rain started to come down. Luckily, there were marquees erected in the garden already, so we got to work on the roasting and with the rest of the informal outdoors buffet. We had brought with us more than just the lamb. There were handmade beef burgers, our chef's own gourmet sausage, marinated spare ribs and 2 lovely vegetarian quiches, as well as bread rolls to make lamb sandwiches. There was lots of fresh salad including our excellent carrot and orange version, which has a sesame dressing, and new potatoes on the side. The latter is my favourite kind of potatoes, just smothered in rosemary and garlic.
The queues for the lamb started to form just as soon as the garden party commenced. At one point, every guest seemed to be really enjoying the food as all you could hear was the rain, which did nothing to spoil the day.
All in all, the garden party was a great success and it's always a wonderful feeling to be a part of that. Hopefully we'll be asked back next year!