Hog Roast Uppermill's latest event was a riotous, festive family Christmas celebration! Grandparents Sam and Liz wanted to give their children and grandchildren a great early Christmas party.
The happy Clients worked with the Hog Roast Uppermill team to come up with a whole host of delicious dishes for the family of 15 to enjoy at the jolly party. With ages ranging from 5 to 68 years old, the menu the Clients created with input from the team was diverse, but sure to bring a smile to everyone's faces.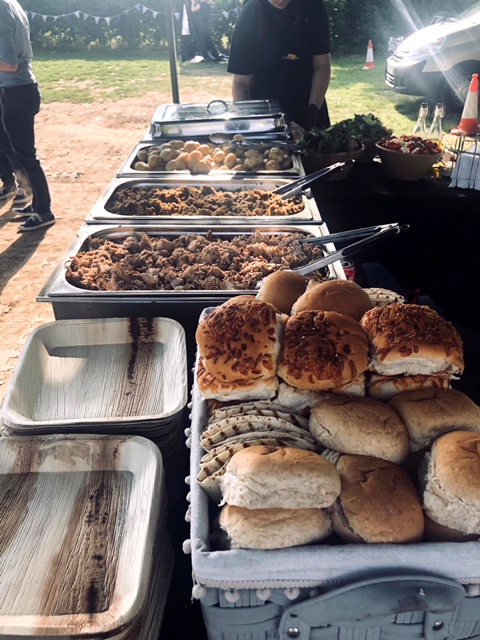 As part of their catering package the Clients not only had Chef Jason to make all the tasty dishes for the event, but also the use of Hog Roast Uppermill's disposable crockery and cutlery. And the rubbish from this, and from the buffet as a whole, was later disposed of responsibly by Chef Jason, leaving the Clients able to focus on enjoying their special party.
The whole buffet was created by Chef Jason at Clients Sam and Liz's house, where the party was taking place. Friendly Chef Jason arrived several hours before the 6pm serving time, leaving him plenty of time to create all the tasty treats.
For the younger guests to enjoy, Chef Jason made hot dogs, soft rolls and friend onions. As well as that there was also cheesy, loaded friends and a selection of rolls and sauces.
For the grown-up though there was much more in the way of variety. The main attraction at the serving table was the local free range chicken that was served with chipolata sausage and homemade onion gravy. As well as those treats, there was also Chef's choice of 3 fresh prepared salads, one of which was delicious crunchy coleslaw. Finishing off the buffet was a big platter of piping hot baked potatoes.
The buffet went down a treat with all the guests! Everyone had big helpings and there were smiles all round.
As Chef Jason tidied away he reflected on the event, it had been a wonderful, loving occasion that he was thrilled to be a part of. And Clients Sam and Liz were delighted with the team's hard work, it had been a brilliant Christmas party!