We were catering for a teen birthday party at the weekend the young man Robbie was celebrating his 16th birthday and the event was held in his local community centre in our hometown. We didn't have far to travel, which makes a change and Robbie's very excited mother at the door met us at the door she said Robbie had been going on and on about his party for weeks and said he insisted on Hog Roast Withnell food! That was nice to hear and we were going to create him a feast to remember.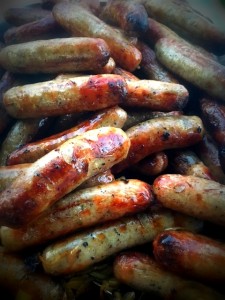 The room was filled with decorations and banners and the tables all set so we set up our machine and prep table and set to work. We placed rows of sausages on the machine and rows of potatoes; we then made some fillings for the jacket potatoes some cheese and onion, tuna and sweet corn and a spicy rice mix. We then prepared some vegetable skewers using cherry tomatoes, button mushrooms, courgette and radishes and placed them aside to cook last minute. We then made a huge bowl of salad using lettuce, tomatoes, spring onions, cucumber and shavings of cheese and a lovely creamy crunchy coleslaw. When the sausages were cooked we placed them on sticks and then put the skewers on the machine for a few minutes and we were done.
Robbie arrived with his palls and they came charging over all keen to taste the Hog Roast Withnell. We filled the fluffy potatoes full of the fillings and they loved the sausages too. They piled their plates with salad and Robbie's mother said to us it was so nice to see the boys all enjoying the salad and vegetables our food is very healthy and we make it so tasty and enjoyable for even the fussiest of eaters to enjoy. The music started and the boys were off and as we cleared away there was nothing left! They had ate the lot and that did make us happy we love nothing better than seeing clean plates it is the biggest compliment ever and we left feeling very happy.