On Sunday, people all over the globe celebrated international women's day by paying tribute to their female relatives, friends and role models who play an integral role in the women's rights movement. At Elton All Saints Cricket Club though, they kicked off the annual celebration a week early and started March off in the right way by hosting their first-ever ladies night event, which served as a double fundraiser for both the club and Bury Hospice.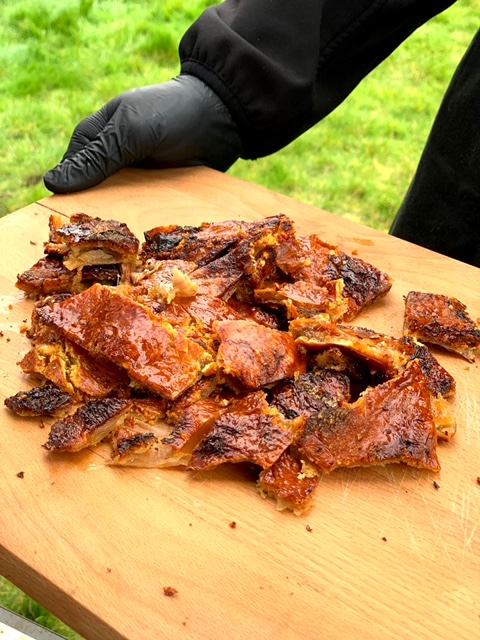 Ahead of the event, one of the organisers, Vicky had reached out to Hog Roast Ramsbottom to place a booking for one of our drool-inducing menus. After a brief discussion, the client took a few days to confer with the other three planners before calling back to finalise the details of her booking. In the hopes of pleasing all 120 guests, Vicky had chosen our crowd-pleasing classic hog roast menu, served on eco-friendly wooden crockery and cutlery with sides of gluten-free rolls and wraps, golden fries and a meat-free alternative of grilled veggie skewers with flatbreads and tzatziki dip.
Arriving at the venue in the early hours of the afternoon, Hog Roast Ramsbottom set straight to work on preparing the meal for the evening. Starting with the medium-sized free-range pig, which the catering crew expertly scored and allowed to slowly cook over a low flame until the guests' arrival, they prepared an otherworldly feast that was sure to tickle everyone's taste buds.
As the food effortlessly cooked away, the team used their remaining time before the party kicked off to dress the tables with white tablecloths, balloons and candles. The clients had also arranged for each guest to receive a goody bag at each place setting.
With a fun-filled night of dancing, raffles, prizes and posing for the camera ahead of them, the guests were in a great mood, when they arrived at the party! But before giving their requests to the DJ, everyone was eager to fill themselves up with the delicious food that Hog Roast Ramsbottom had prepared which set them up for the night ahead.
Vicky was so grateful for our team's help, and since the event, she has been in touch to thank Hog Roast Ramsbottom for our involvement which helped her and the club achieve their fundraising goal!