The dynamic duo Jordan and Sophie have been in the catering and hospitality industry for years, running a cosy coffee shop and brilliant bistro alongside Hog Roast Astley. With their expertise, passion, and professionalism, you are in for an amazing experience of culinary masterpieces with fantastic service. They both love the buzz of events and making people happy by delivering delicious dishes and being super lovely and friendly.
They have brought such a positive energy to Hog Roast Astley so far, let's find out their time with the company!
What has been your favourite event so far?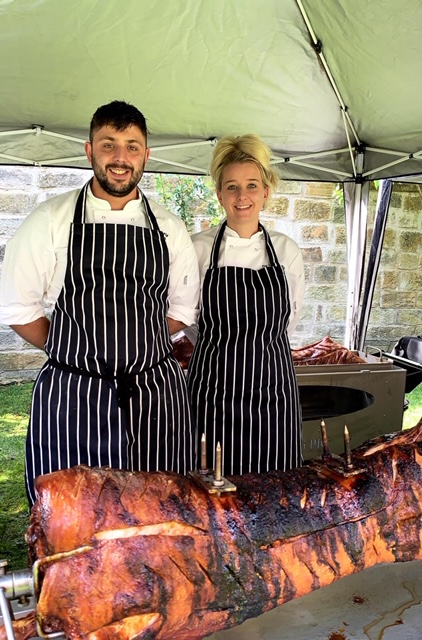 Sophie and Jordan's favourite event was for 'The Hut Group' who were rewarding their hard-working staff for their success over Black Friday and Cyber Monday. Because it was the run up to Christmas it had such a festive vibe as they served out of a wooden hut like a Christmas market set up, the Christmas songs were blazing out and the atmosphere was so exciting!
Have you ever met anyone famous during one of your events?
Unfortunately, not! Although Sophie's ideal famous person to meet would be Lord Sugar as he is such an inspirational figure for her, so if you or anyone knows Lord Sugar, please encourage him to book with Sophie at Hog Roast Astley!
Have you had any funny moments on an event?
On an event, the gazebo decided to become a kite and fly off down the field!
If you guys were customers which Hog Roast Astley menu, would you choose?
Nothing beats a classic hog roast with the most succulent pulled pork and tasty stuffing in a bun! Although, the antipasti boards are heavenly with the different meats, cheeses, artisan breads and complimentary nibbles! Followed by the Southern Slow Roast as it gives people choices … and not to mention incredible tasting food!
Why not book Hog Roast Astley and experience Sophie and Jordan's scrumptious menus, quick communication, and pristine service?! Don't miss out on summer 2021 enquire now!