Not only does Hog Roast Disley have an outstanding catering team who are readily available to help transform whatever event you've got in mind into an unmissable occasion, but we also allow our clients the chance to try their hand at hog roasting for themselves! As leaders in both the manufacturing and catering side of the industry, we are proud to offer an all-encompassing service which our clients can rely on; and kicking off the month of December, we received a booking from The White Horse pub's licensee Amy, who was looking to hire one of our machines for a weekend Christmas light switch-on party she had planned for the establishment's regulars.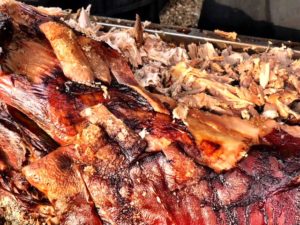 As a novice, Amy was offered plenty of support from the Hog Roast Disley team who have had years of combined experience to master the art of the traditional cooking method that has grown in popularity over the past few years. She was also relieved to hear that on top of providing the machine itself, we can also include a gas canister and a selection of fresh produce as a package deal which takes the added stress of sourcing high-quality ingredients away from our clients.
After confirming the details for the event and picking out a suitable machine for the occasion, Hog Roast Disley made the short journey to the pub in the early hours of the morning where Amy immediately set to work by scoring the whole pig and beginning the slow roasting process. With everything under control, Amy took to social media to update her followers about the festive event which promised finger-licking hog roast sandwiches and plenty of warm cider, mulled wine and steamy mugs of hot chocolate to wash them down!
Although the weather took a sudden turn for the worse, Amy and her guests had a fabulous time celebrating the start of the festive season and most importantly: everyone was hooked on the delicious food which kept them warm as they witnessed the big switch on. Following the night of fun, Amy was pleased to discover the Hog Roast Disley team had arrived to collect the machine which allowed her to carry on with her other responsibilities.