Our Hog Roast Chorley catering managers, Jordan and his partner Sophie recently landed an important gig where they were invited by Rob, of waste management service C J Lyon, to handle a corporate event for all 100 members of his staff.
Speaking with our dynamic duo, Rob went over his plans for the large-scale get-together, and after discussing the details further, everyone was on board with the idea that our Corporate Hog Roast Menu 3 (which just so happens to be our more popular menu!) would be the most appropriate choice for the occasion.
Offering an impressive-sized pig, cooked to absolute perfection over real flames and served up with traditional accompaniments of homemade sage and onion stuffing, applesauce and our famous pork scratchings from the deliciously rendered skin, this spread benefits from a collaboration of authentic flavours, made from ingredients that, in our case, can be traced back to local farms.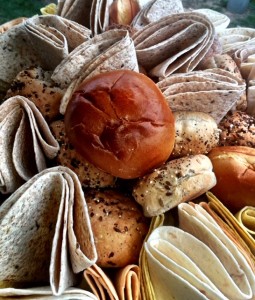 In addition to the show-stopping hog roast centrepiece, Rob had also asked the Hog Roast Chorley team to include a veggie and vegan-friendly option for the handful of guests who follow plant-based diets. He was pleased to discover that this was no trouble at all for us, and from the meat-free menu, he opted for our newly added, flavour- bursting, hickory-steeped, BBQ pulled jackfruit, which is served in a gluten-free bap with a dressing of gourmet coleslaw for an extra 'pop' of flavour.
With the feast scheduled to begin at 2 pm, with staggered serve times, Hog Roast Chorley arrived on-site a solid five hours in advance, which allowed them to power through the majority of the cooking before the staff showed up for work. Working quickly and efficiently, the team skewered the pig and left it to slowly rotate on the spit for several hours, while they turned their attention to the vegan dish.
As it always does when you're having fun, the time Hog Roast Chorley had spent cooking flew in, and before too long they found themselves piling copious amounts of pulled pork into wholemeal rolls, topped off with the aforementioned sides, and serving them to the C J Lyon staff who savoured every bite.