From moving house and getting married to having children and starting a brand new career, life is full of stressful yet equally rewarding experiences. And at Hog Roast Arnside, it's our job to help you celebrate these monumental life moments properly, without adding any more stress to your already overflowing plate. Because if you've ever been in charge of planning an event before now, then you'll know as well as we do just how overwhelming it can be to host a party – even if it's just for close family or friends!
First, there's finding the perfect venue or giving up your home for the good of the celebration, arranging entertainment to match the occasion and getting everyone to agree on a menu whilst working around those notoriously fussy eaters. Yes, planning a party of any kind can certainly be an exhausting job. But with Hog Roast Arnside on your side from the beginning, you'll have a lot less to worry about – and that's a promise.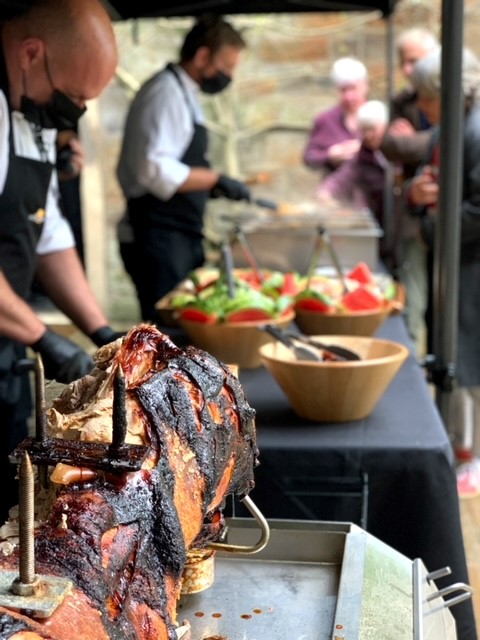 Covering the whole of the North West, our catering duo, Jordan and Sophie, are renowned for their impeccable catering skills, professionalism and upbeat attitudes, which is what makes them an undeniably fantastic choice for your next event. The pair have been in the hog roasting business for a good number of years now, and in that time, they've been hired to manage all sorts of wonderful occasions; ranging from big-time corporate functions, charity galas, and standard birthday celebrations to weddings and christenings. They've even served our stunning menus to a fair few celebs in their time!
So, if you're looking for a truly versatile group-dining experience that can be moulded to suit the unique intricacies of your event, then Hog Roast Arnside is definitely for you! We even offer a large range of meatless and gluten-free options, and our dishes are all hand-crafted using the freshest, finest-quality ingredients that can be traced back to local farms. Plus, with our broad selection of catering plans to suit all budgets, you'll have no trouble getting the most out of your money when you book with us.