Hog Roast Stoneclough hosted an exciting refresher training event over the course of two days. With covid taking a hit to hospitality and catering Hog Roast Stoneclough thought it was a good idea to get all teams together so that they could go over the whole wedding process including responsibilities and expectations on the day as well as the menus. There are a lot of weddings booked in for over the summer and as wedding catering experts, Hog Roast Stoneclough guarantees and ensures delightfully presented and delicious food as well as top service. They aim to give the happy couple peace of mind on the run up to the wedding and especially on the day when it comes to their wedding food.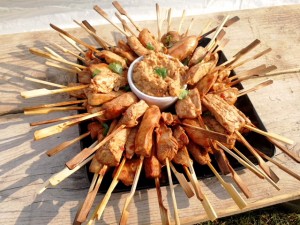 On the first day, a selection of canapés were discussed, made, and presented reflecting how it would be done on site at a real event. A customer favourite, antipasti boards was also discussed, made, and presented. The catering managers first showed how it was done, and then it was their teams turn. It was great to see high standards and perfect mirroring of everything.
The teams were refreshed on how to plate desserts with coulis being drizzled on the plate before the dessert and garnishing the dessert afterwards with fresh berries and cream. Common salads were also made and presented with the teams being questioned the ingredients in each one.
To really put the situation into perspective, a marquee had been put up and guests had been invited to an evening event. Some of the teams would be serving the guests and some would be experiencing the accommodation of the serving team as guests themselves. This helps with feedback and how they would like to be treated and served themselves.
The guests enjoyed reception drinks and four delicious canapés: mini fish and chips freshly fried and garnished with fresh coriander and lemon wedges, gourmet sausages served warm with a tasty honey and mustard dressing, again garnished with fresh coriander, smoked salmon served on soft brown bread, drizzled with lemon juice, and finished with the sprinkling of lemon zest and then fillet of beef served in mini-Yorkshire puddings with a dash of horseradish. The starters were the colourful and flavourful antipasti boards and after this the guests enjoyed a main of a whole roasted pig, baby new potatoes and three fresh salads. To finish they had the option of tangy and light lemon tart or divine and indulgent chocolate torte, garnished with raspberry coulis, fresh berries, and a spoonful of whipped cream on the side.
The first day was a true success!