A common quandary amongst many of our clients when they contact us with an initial inquiry, is whether their venue has enough space and accessibility for all of our equipment and catering team.  This is the concern that Sheila, the Secretary of a local sailing club, had when she got in touch about hiring us for a party she was organising. What she described a 'pre-launch party', Sheila and her fellow boat fanatics wanted to welcome in the new season with a get together for the club's loyal cohort and also drum up interest in the local sailing scene to attract new members to the club. The problem (or so Sheila thought) was that they were planning to host the party on the roof of the club house so everyone could enjoy the view over the marina, which was only accessible by a flight of stairs. Would we be able to get our equipment and supplies up there and would there be enough room for everything whilst still being able to comfortably accommodate 50 guests?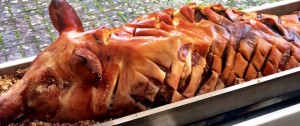 The Hog Roast Lytham team quickly assured Sheila that she had nothing to worry about. We informed her that we have a range of state of the art machines suitable for different locations and party sizes, so we would have no problem accessing Sheila's chosen venue and being able to provide a sumptuous hog roast without dominating the space. For her requirements, party size and menu choices, 'all that equipment' would simply consist of one of our efficient and versatile hog roast machines and a serving table. We also allayed Sheila's concerns about the hordes of staff she imagined would need to be swarming about the place to make it all happen. She couldn't believe it when we told her that just one chef and one catering assistant from our experienced and well-rounded Hog Roast Lytham team, would be more than capable of meeting everyone's needs.
When our capable crew of two arrived on the day, Sheila was very impressed with how easily we managed to set up on the clubhouse roof and with how our discreet double act managed to serve up such a delicious hog roast buffet without getting in the way of the lovely view over the marina!