At Hog Roast Manchester, we are no stranger to tailoring our services to suit the client's specific needs. Our expert chefs and waiting staff have vast experience in catering to a wide array of clients and environments, so whether the event you're hosting is big or small, indoors or outdoors, formal or informal, we have you covered!
For one of our most recent clients, Paul, timing was essential. Paul owns a small cinema where he often plays host to horror movie marathons. His cinema has become quite a popular spot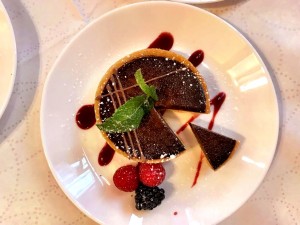 for film fans and lately the number of guests he welcomes through his doors have risen exponentially. In an effort to keep this trend going, he decided he was going to serve food to his customers during intermissions – that's where the splendid team at Hog Roast Manchester made their entrance. We spoke with Paul about his specific needs and helped him tailor a menu that worked for him. Paul wanted hot, fresh, tasty food to be available at precisely the moment the first of his films ended. Not only that but he needed to serve his sixty guests quickly, so they could eat and be back in time for the next movie.
Our buffet style roasted pig with bread rolls and a selection of sauces was the perfect fit, a dish that is quick and easy to serve to people, without compromising on quality. Our team were on site a good six hours before serving time. As the guests watched the first flick of the night, the Hog Roast Manchester team were working tirelessly to transform the lobby in which the guests had just arrived, into a splendid dining area. When they re-emerged the guests were gobsmacked to find tables fully laid and waiting for them. After they ate and returned to the screen, our team cleared everything away and re-laid for dessert, to be served after the second film.
This time guests were treated to a choice of handmade dark chocolate torte or the handmade Cheesecake with a light cream cheese filling. Following the success of his spooky movie marathon, Paul is now contemplating buying his very own Hog roasting machine, so he can run as many nights like this as he wants.