It was a beautiful spring morning and the ground was wet with morning dew which made the grass smell sweet, a spring fare had been arranged on the playing fields in Garsdale. There was a range of different stalls attending on the day suitable for all ages. On one side of the field were the craft stalls which were had things like the handmade greeting cards and cross stitched place mats. Another area was for the wood crafts and demonstrations of these old crafts. There was also the section for the tombola and raffle stalls. With the last section being filled with food stalls to keep everyone going through the day.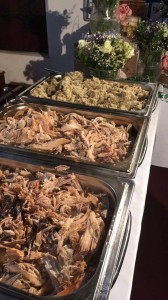 We at Hog Roast Garsdale were asked to do some catering offering a selection of hot sandwiches. As it was just a spring fare and not a special event we were asked to keep things simple. As there was already going to be a stall providing hot dogs and burgers for the children we decided that a hot roast beef roll with onions and gravy would be a good choice, alongside pulled pork and stuffing, for those who just wanted something simple, spit roasted chicken was available. The local WI ladies had made a variety of different cakes and plenty of fruit scones to have later with a lovely cup of tea. A dog show had been organised with the mayor of Garsdale being the judge. Egg and spoon races where had by the children and the adults entertained the crowd by doing a sack race. Not many made it to the finish line after collapsing in a heap. A tug of war was to be held mid- afternoon with a team from the two local pubs up against each other. The prize was to be a trophy to put behind the bar of the winning team for that year. It was the White Horse pub that were the current holders of the trophy, so they were eager to keep hold of it for the following year. There was a lot at stake! Families were filling the ground and having a great day out. There was something for everyone to enjoy.
The food had cooked slowly all morning and people started to congregate around us waiting for meat to be carved. Our catering staff were on hand ready to make the rolls fresh as people asked for what they wanted. The BBQ pulled pork seemed to be the favourite followed by the hot roast beef. The sandwiches went down really well with all ages. Even children were turning down the hot dogs so they could have a tasty sandwich from Hog Roast Garsdale. There was plenty to go round and everyone commented on how succulent and tasty our food was. We love how happy are customers are.